Mothers do so much for their loved ones. Whether it is the grocery shopping, the cooking or cleaning, or just being the one the kids always run to for every thing, there is no denying the importance mothers play in the lives of their children and family. Mother's Day is not just about the gifts, but about showing true appreciation for everything your mom does for you. This is why I have created a list of Mother's Day Craft Ideas that you can handmake to show how much you appreciate what mom does.
As a mother of younger kids, I always enjoy receiving the adorable crafts they make and bring home from school. Nothing makes me happier than seeing something they made for me. I do not need expensive gifts, just a cute handprint project or something made from the heart.
These crafts are all designed for children to make either by themselves or with some help from an adult. Moms, if you are reading this, send the list to your husband or partner to give them some ideas. Or you can even make the crafts yourself with your kids. Dads, if you are reading this, make sure to pick one or two of these and help your child make them for the special person in your lives.
I also wanted to take a moment to add that mothers come in all different forms. Mothers can include traditional moms, grandmothers, stepmoms, adoptive moms, foster moms, other family members that act as mothers, and many other different types. Women who have lost babies and have no living children are still mothers. Please be kind and remember this. Let them know you are thinking of them on Mother's Day.
Now on to the Ultimate List of Mother's Day Craft Ideas!
Pin for Later!
Mother's Day DIY Cards
3D Heart Flower
The card may look involved to make, but is actually quite easy. This design, by Mombrite, comes with a free template that contains all the shapes you will need to create this beautiful card.
Baker Mom Heart Card
If the special person in your life loves to bake, then this Baker Mom Card is the perfect choice! Use the template provided and write your own special message on the inside. This card was created by Non-Toy Gifts.
Funny Orange Card
This fun card has an adorable orange on the front. The orange opens up to a message just for mom on the inside. This card was created by Fun For Little Ones.
Lego Mother's Day Card
Here is another free printable card for Mother's Day. Simply print out the card and then use Legos to create the figures of the mom and children. Use the blocks to create a stamp print on the page. This creative card was created by Mombrite.
Mother's Day Card + Gift Tags
Clementine Creative has designed a beautiful and sentimental Mother's Day card. The gift tags contain the same beautiful watercolor floral design and contain sweet messages such as "Home is where Mom is."
Origami Card
This flower origami card is created by Fluxing Well. The background can be painted, colored, or designed in any way that you wish. The flowers are then folded into origami and glued on to create the 3D effect.
Rose Filled Heart Card
Ottawa Mommy Club includes a template to make the roses. Simply cut the shape and twist the paper. This one can be a bit time consuming, so is best for older kids or a younger child with adult help.
Self-Care For Moms
Homemade Bath Bombs
The great thing about these Homemade Bath Bombs, from Feast For A Fraction, is that they are easy and inexpensive to make. Many of the ingredients you probably already have on hand. The ingredients you do not have are inexpensive and easy to find.
Homemade Lavender Soap
Not only is this an easy a great gift for helping moms to relax, but it is also easy to make. The kids can even help make this lavender soap. This uses a melt and pour base instead of making the soap completely from scratch. This soap recipe was created by Feast For A Fraction.
Lip Scrub
This delicious smelling lip scrub is made using brown sugar as the exfoliant. Other ingredients include coconut oil and optional essential oils. The recipe was created by Beauty Crafter.
Oatmeal Face Masks
Beauty On 44th Street has six different DIY Oatmeal Face Mask recipes you can create to help mom relax. The different masks include versions that contain yogurt, banana, avocado, honey, or turmeric. The different versions are also great for different skin types including oily, dry, or combination skin.
Rosewater Face Spray
This is a great smelling spray that is also easy to make. The spray itself uses only a few ingredients. One of which is rose water, which you can make yourself with the instructions provided by Pink Fortitude. This is also free from all the artificial ingredients that are in most perfumes and sprays.
Shower Steamers
If you are not familiar with a shower steamer, it is something you place at the bottom of the shower. As it dissolves, the essential oils are released into the steam of the shower. These shower steamers take only 5-10 minutes to make, plus a few hours for drying time. You can add lavender buds or other dried flowers to make them pretty. These are created by Beauty Crafter.
Paper Crafts
Broken Glass Mother's Day Frame
Don't worry, this one does not use actual broken glass! The "glass" is made from colored paper and glitter. This cute project was created by Montessori Pulse.
Easy Mother's Day Crafts
Montessori Pulse has created a fun Mother's Day Craft that is designed for ages Pre K-2nd grade. It uses easy to find materials including tissue paper, cardboard, and colored paper.
These two easy crafts use supplies you should already have around the house. If not, the supplies are easy to find and inexpensive. After they are created, they can be hung around the house as a homemade decoration. These Mother's Day Crafts were created by All About Baby Blog.
Flower Pot Craft
The Mother's Day Flower Pot Craft was designed by Easy Crafts For Kids. This is a great eco-friendly project as it uses an upcycled container, such as a coffee can, to create the base. After the project is complete, you can add mom's favorite plant for the finishing touch.
Handprint Flower Bouquet
This one melts my heart when I see it! What could be better than flowers made lovingly with your child's handprints? This would also be great if you have multiple children, as you can use all of their hand prints in this bouquet. This was designed by Non-Toy Gifts.
If you prefer a non-bouquet look, Non-Toy Gifts has another version of the handprint flower.
Paper Plate Flower Craft
This Paper Plate Flower Craft was created by Craftsy Hacks. It combines the 2D scenery and 3D flowers. Kids of all ages will enjoy drawing a picture especially for their mom. Add in her favorite color flowers with a fun 3D effect.
Paper Roses
While real flowers are beautiful, they do not always last very long. These paper roses, from Ottawa Mommy Club, will last a lot longer. These can be given as pictured, or can be added to another gift. If you do not have colored paper, you can even paint you own to create a unique flower color. This craft is also best with some adult supervision if you are creating it with younger children.
Pinecone Flowers
Use nature's resources to create this beautiful pinecone bouquet from Sprouting Wild Ones. It is made using painted pinecones and sticks covered in yarn. Make it even more special by taking a family walk together to gather the materials!
Tissue Paper Flowers
The Mother's Day Tissue Paper Flowers are designed by Barley and Birch. Using bright colors will help liven up the room and add a touch of spring. The kids will have fun designing the perfect flowers just for mom.
Watercolor Art Project
This is a project that has many possibilities. Use painter's tape to create the shape you are wanting. Then have your child paint the picture using watercolors. You could even frame the artwork for Mom, so she can hang it up around the home. This was created by The DIY Nuts.
Preschool Mother's Day Card
This card, from Leap Of Faith Crafting, is perfect for preschool aged children. The cards can be created with a variety of materials, including markers, crayons, and stamps. This allows them to be creative while making a gift Mom will love.
Mother's Day Printables
Coloring Page Card
Combine the gift of a sweet card and a picture colored by the special child in their life. What could be better? I love every single picture my kids color and draw for me. It makes the gift extra special. This Mother's Day Coloring Page Card is free from Where The Smiles Have Been.
Easy Mother's Day Printables
Fudge My Life has created three fun Mother's Day printables. They include a word search, a Mother's Day portrait, and a set of Mother's Day cards.
Flower Basket Paper Weaving
The Mother's Day Flower Basket project is designed for preschool aged children. Use the provided templates to color, weave, and create this sweet flower basket. This project was created by Red Ted Art.
Handprint Poem
Print out one of these poems and have the child add the flower petals using their handprint, fingerprint, or palmprint to give it a special touch. The free printable poem was created by Kiddy Charts.
"I Think You Are Grape!" Printable
This cute printable is perfect for young children. They can use thumbprints to create the grapes. The other option is to use pistachio shells that are painted purple. This craft was created by Crafts 4 Toddlers.
Mother's Day Card
This adorable Mother's Day Card was created by Lil Tigers. Children can fill out all the boxes including why Mom is special and their favorite thing to do with Mom.
Mother's Day Coloring Page
Two Kids And A Coupon has created three different Mother's Day coloring pages that are free to print.
Mother's Day Coupons
Coupons are a classic gift for many occasions, including Mother's Day. Fill out the printable coupon templates and fill in with the various things you want to offer. Make sure to include things your favorite person will love. Maybe this includes cleaning the kitchen, cooking dinner, watching her favorite movie, or something else she would enjoy. Dads and other partners, you could always fill out some of your own for her as well! This template was created by Clementine Creative.
Mother's Day Poem
You'll love the versatility of this Mother's Day printable! With 3 free templates provided, you can create a fingerpainting craft, a handprint craft or a simple coloring page! These free Mother's Day printables were created by Simply Full of Delight.
Pop Up Heart
This Pop Up Heart can be printed and colored. It can then be added to a card to make a fun pop up as the card is opened. This was created by Red Ted Art.
Spanish Mother's Day Printables
Lorena & Lennox, Bilingual Beginnings, offers four different printables that are all in Spanish. These are great for toddlers through kindergarten age. Help them learn about Mother's Day while doing educational activities.
Wall Art Printable
A great and super easy idea for a unique gift to your mom or grandma, is lovely Mother's Day Wall Art, which you can download for free, print, and frame. Your mom or grandma can hang your present anywhere around the house! A Wall Art Printable with 4 beautifully designed images. These free printables were created by Mama In Shape.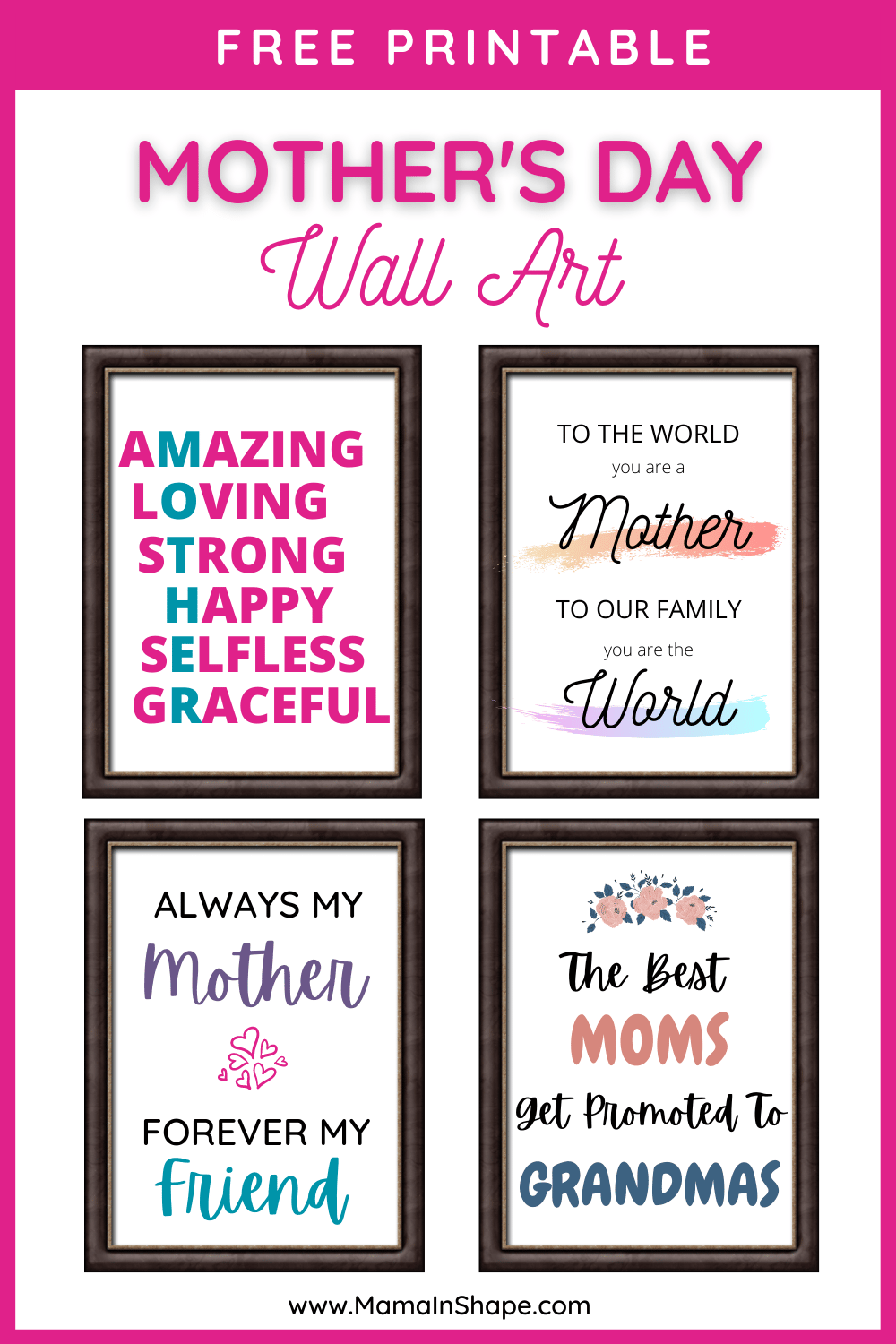 Other Mother's Day Crafts
Candy Bouquet
Down Redbud Drive has created a great DIY guide to creating your own Mother's Day Candy Bouquet. This is easy to make and you can include all of your special person's favorite candy and treat items.
Tikkido has created a version of the candy bouquet made with dark chocolates that is another adorable option.
Fabric Rose
These Mother's Day Fabric Roses are beautiful and easy to keep clean and vibrant. Making the fabric rose involves cutting and sewing, so is better for older kids or adults. This was created by Hello Sewing.
Fingerprint Glass Magnets
Not only are these Fingerprint Magnets sentimental and adorable, but they can also be used to hang adorable artwork on the fridge. Simply have the child make several different fingerprints in different colors and variations. Then turn the fingerprints into a cute bug, animal, or other object. The possibilities are endless here! This will ensure you always have a reminder of your child when they were little. This fun craft was created by Craftsy Hacks.
Family Focus Blog has another version of glass magnets. These are made using photos, scrapbook paper, or other types of paper to create the background.
Geometric Candle Holder
This beautiful Geometric Candle Holder was created by Our Kind of Crazy. This is a craft that is best with adult supervision or for older children. The design is put together using wooden skewers. You can be creative with the design and make it either simple or more complex.
Marbled Nail Polish Mug
All that is required for this unique project is a ceramic mug, nail polish, and water. You can use any colored nail polish, although darker colors work better. This is a great way to use any of that old nail polish laying around the house! This was created by Strength & Sunshine.
Mini Canvas
The mini canvas project was created by Craft Rocker. The canvas is painted and then various stickers applied to make the pictured designs. They can then be hung up around the house to be enjoyed year-round.
Mom Bag
This fun I Love Mom Bag was created by Needle Pointers. Even better, it is easy and affordable to make. It will be great for mom to store makeup or other small items.
Nail Art
This sweet Mother's Day Nail Art project is designed for children aged 5 and older. It will also require some adult help with the nailing. The child can then string the rubber bands to create a beautiful work of art just for mom. The nail art pictured was designed by Lil Tigers.
Pressed Wildcraft Bookmark
This beautiful bookmark is a good choice for the special person in your life who loves to read. Have the kids go outside and gather various flower petals and leaves in different shapes, sizes, and colors. Then help them make this pressed bookmark using what they have collected. The Mother's Day bookmark was created by An Off Grid Life.
Seed Bomb
Seed bombs are a mixture of clay, water, compost, and seeds that are mixed together. When it is put outside and exposed to enough water, it melts away to reveal the seeds surrounded by the compost. This is an eco-friendly gift that your special person can watch grow and bloom. These Mother's Day seed bombs are created by Hess Un-Academy.
Down Redbud Drive has another version of a Mother's Day Seed Bomb.
Hess Un-Academy also has a post about Mother's Day Seed Packets. Use the template provided to create a seed packet full of her favorite seeds.
Sharpie Mug
The Mother's Day Sharpie Mug is a thoughtful gift that will allow mom to see the beautiful pictures her children drew each time she drinks her coffee or tea. Kids can use oil-based Sharpies to draw anything they would like on the mug. This idea was created by The Faithful Help Meet.
Stepping Stone
These adorable stepping stones were created by Needle Pointers. The kids will have fun personalizing these with the different embellishments. They can use anything from shells, tiles, rocks, or other fun items.
Succulent Project
Pink Fortitude has created a fun succulent project that is great for the person in your life who is a plant lover. This project is easy and fun for kids because they get to play in the dirt and learn about taking care of plants.
Upcycled Throw Pillow
The sweetest thing about this pillow project, from Sustain My Craft Habit, is that it uses old baby clothes. This can be made using some of those old baby outfits you just cannot seem to get rid of because they hold so much sentimental value. (Dads, you might want to make sure it is okay to use certain outfits before proceeding with this one!)
Watch Me Grow Mason Jar
These mason jars are created by Julie Measures. Add a small plant or herb that can be enjoyed. They are then able to both watch the plant grow and watch their children grow.
If you are looking for more gift ideas, check out Valentine's Day Gift Ideas: Subscription Boxes and Best Children's Books For Kids 12 and Under.